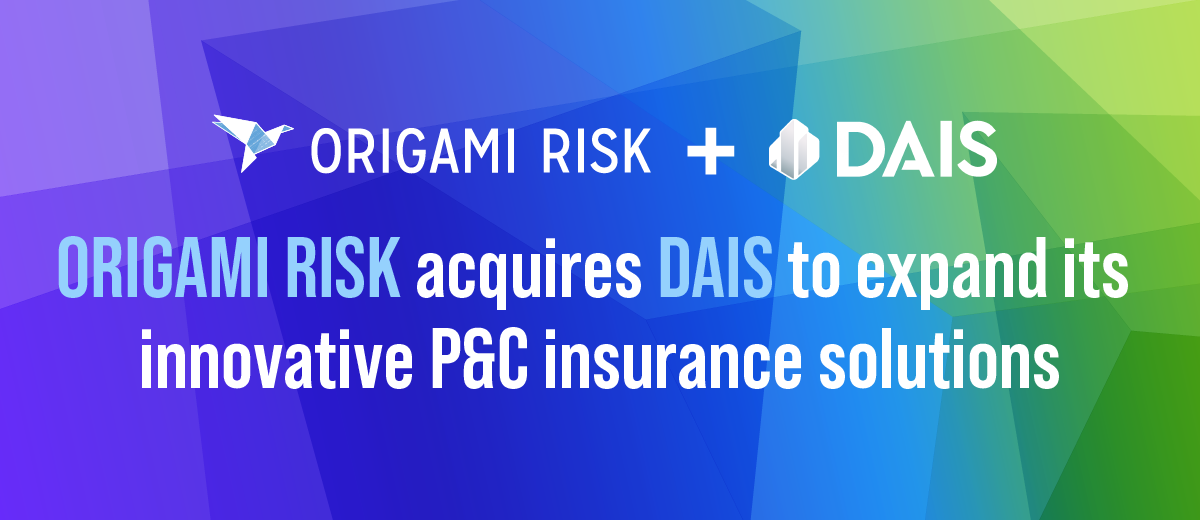 Innovating for the Long Term – Origami Risk Aquires Dais Technology
Origami has an excellent track record of delivering speed to value with our multi-tenant, SaaS insurance core solutions. Even so, we are always looking for ways to add speed to value for insurers and MGAs, especially when they are just looking to launch a new product. 
We know organizations need a cost-effective solution for creating, managing, distributing, and selling their digital insurance products. With API connections to the most popular rating bureaus and leading payment providers; no-code, self-service configuration capabilities for forms, rules, documents, rates, prefill, automation, user interfaces; and more, Dais delivers on all fronts. Best of all, the Dais team has proven that they can deliver in days or weeks, rather than the months or years it can take some legacy providers to get solutions up and running.
By acquiring Dais, we continue to expand our offerings for all participants in the risk and insurance ecosystem. For Dais, the acquisition expands market reach,  provides the support of a best-in-class customer service organization, and gives immediate access to a growing network of partnerships. 
Whether the technology solutions an organization needs are part of the Origami Risk platform, the Dais platform, or a combination of the two, prospective clients can be assured that interactions with our combined sales team will be collaborative, not prescriptive. In other words, the focus will be on delivering the right solutions for where your business is today and where it is headed in the future.
ORIGAMI RISK ACQUIRES DAIS, EXPANDING ITS INNOVATIVE P&C INSURANCE SOLUTIONS
Read the Article
What are Rating-as-a-Service (Raas) Solutions And What Are Their Benefits To Insurers?
Read the Article
Want to learn more?
To learn more about Origami Dais, fill out the form to your right and we will have someone contact you soon.